Does Cleaning Out Ductwork Really Work?
Nowadays duct cleaning has become very popular and is in demand right now. People from commercial backgrounds are more likely to be inclined towards this trend. But does cleaning out ductwork really work? Is it really worth it to clean your ducts? In this blog, we are going to discuss the answers to these questions. You might wonder whether duct cleaning is really worth it and important? Because ducts are behind the walls and ceilings and cannot be seen, so is it necessary to have them cleaned?
What Is Data About Duct Cleaning Service Saying?
As per the data, there is no proof by far that regular duct cleaning improves the quality of air. Neither it is proven that cleaning the ducts reduces dust entering your house. However, we can consider that regular cleaning of ducts improves the efficiency of the whole equipment. Professional duct cleaning only involves cleaning the supply, intake, and return ducts. Nevertheless, it must also involve cleaning of the fans, air filters, motors, and so on for the proper functioning of ducts. Scroll down to know whether or not you will benefit from cleaning your ductwork. And whether cleaning out the ductwork really works.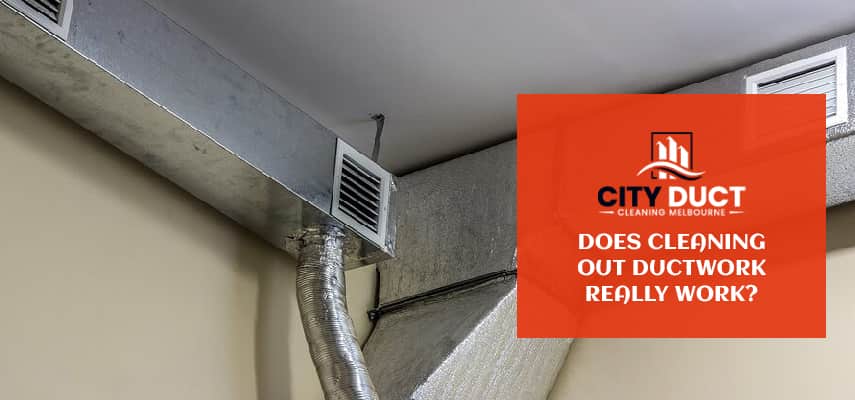 Cleaning Out Ductwork: Works or Not?
Every house owner would like to keep their surroundings safe and healthy. So, whenever it comes to duct cleaning, people are likely to incline towards it. We understand that it is important to maintain good indoor air quality. But in reality, it is not necessary to clean the ducts unless they are really dirty. Of course, there won't be any problem in cleaning the ducts irrespective of how dirty they are. But it needs to be on your regular maintenance list if you are willing to do it. does cleaning out ductwork really work?
Here are some points that explain indeed when you must clean your ducts. Also, if duct cleaning helps and when will duct cleaning be actually worth it:
Renovation of the house- Duct cleaning must be done if you have recently renovated your house. There can be significant dust and paint that needs to be cleaned. Apparently, we consider that your ducts were covered properly during the house renovations. But if they were not there is a major chance of damaging your ducts. So, better clean your ducts as soon as possible. Harmful germs containing dust and debris would accumulate inside the ducts. Hence, duct cleaning helps a lot in such cases and it completely works.
Pest abode- Duct cleaning totally works and is worth it if your ducts have become an animal's abode. If you hear weird noises from your walls or attics, you must understand that this is a sign of pest infestation in your ducts. If you see more signs of pest infestation and you are sure about it, then definitely opt for duct cleaning. Remove the pests as quickly as possible and clean your ducts. Cleaning the ducts works wonders in order to keep pests away.
Mould infestation- Moulds usually grow in dark and damp places. They spread in places where there is moisture and a lot of humidity. And obviously, ducts are the perfect environment for the moulds to grow. You must go for duct cleaning immediately to get rid of the moulds. Because moulds spread harmful allergens that cause allergies and respiratory disorders. So, cleaning the ductwork is the best in case of mould infestation. It definitely works to clean the ducts for mould removal.
Presence of contaminants- You would certainly know if there are contaminants in your room. If you see obvious signs of contaminants such as hair, debris, odour, and dust, then they are all coming through your ducts. You must clean your ducts or hire a professional to clean them if there are contaminants. It is completely worth it to clean your ducts if you see contaminants. This usually happens if you have ignored cleaning the ducts for a long period of time.
Sudden illness- If you or any one of your family members shows sudden signs of allergies. Or out of nowhere they start sneezing and show allergy-like symptoms; you must understand that it is because of your ducts. Consider cleaning your ducts in cases of such unexplained allergies. There might be a chance that your ducts are dirty and result in sending polluted air into your house. Therefore, duct cleaning might also work in such a situation.
Conclusion
So, these were some situations in which you may consider cleaning your ducts. Apart from that, if you put up ductwork cleaning in your regular maintenance list, it would be very helpful. There might be many ways to clean your ducts. We recommend hiring professionals for effective duct cleaning and Duct repair services. Because ductwork cleaning on your own might not work as much. You can hire our experts from City duct cleaning Melbourne if you are looking for a duct cleaning agency.