Expert Maintenance & Dryer Vent Cleaning Services in Melbourne
Dryer Vent Cleaning is an important part of home maintenance. The lint that builds up in the dryer vent can cause a fire hazard and also block the airflow, which increases drying time. At City Duct Cleaning Melbourne, we offer dryer vent cleaning services to both residential and commercial customers. Our team of experienced technicians can take care of your dryer vent needs. We also offer regular maintenance programs that will ensure that your vents are always clean and free from dirt and debris. This means that there will be no more lint buildup or other issues after we complete our service. Our professionals unplug your dryer and remove the lint trap to clean the ductwork and vents professionally.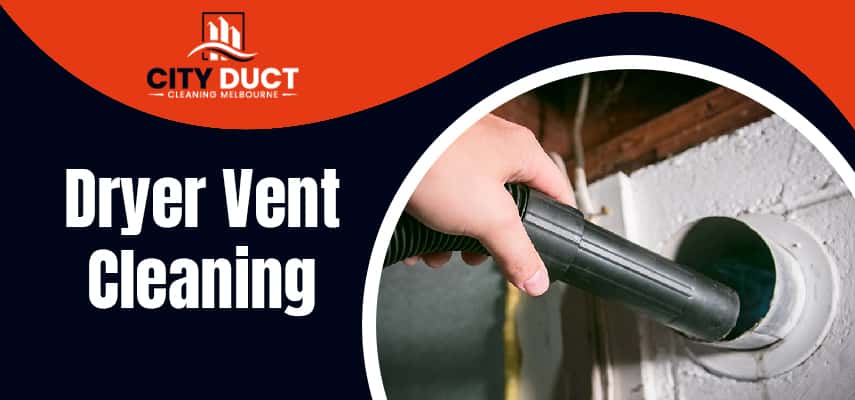 We Help! Here's a Step-By-Step Process Details For Cleaning Dryer Vents
Step 1: First, we turn off the power to your home by flipping off the main breaker.
Step 2: If you have an attached garage, we close the door and make sure no one is inside. This will prevent them from accidentally getting shocked if they come in contact with water or other substances that could be potentially hazardous.
Step 3: We remove any nearby furniture so that we have room to work on this project safely. We start the process of Dryer Vent Cleaning service by inspecting your home or business for any potential problems. We will then assess the issues and determine how best to solve them.
Step 4: We make sure nothing is blocking your dryer vent pipe—this includes anything around it like sheets hanging off of hooks or clothes hanging on hangers. If anything is blocking your dryer vent pipe (such as a sheet hung up), we remove it so that air can flow freely through the system again once we start cleaning it out.
If you have a problem with lint buildup, we can use special tools to remove it from your vents and ducts. We also offer other cleaning options, such as professional deodorizing treatment, which helps prevent future buildups. So, call us when you deal with issues with the dryer vents or duct.
How Dryer Vent Cleaning Is Beneficial For You
This gives a good smell around the vents.
Dryer vent cleaning can be beneficial for removing mould and mildew, which can cause health problems.
Vent cleaning is not an easy task to do, but it is necessary to keep your home safe and clean.
It will extend the lifespan of your air vents and dryer vents.
Remove all the dirt from the vent system and make sure that the airflow is free of any obstructions.
Dryer Vent Cleaning should be done at least once a year. If you don't know how to do it yourself, you can contact a professional company like City Duct Cleaning for help.
Why Choose Us, City Duct Cleaning?
We provide Dryer Vent Cleaning services to homeowners and businesses in VIC areas. So, call us for Commercial, Dryer Vent Cleaning also.
Our technicians are certified, licensed, knowledgeable, and professional.
We provide a full range of dryer vent cleaning services in Melbourne and have all the required tools and equipment.
We have been providing this service since 1996 and have a team of experienced, knowledgeable, and professional technicians.
We have been leading an Australian-based duct cleaning company to offer dryer vent cleaning.
Our company gives full support to the customers and gives them free advice on maintaining their dryer vents and other ductwork.
We provide quality work at an affordable price.
We will come to your home, inspect the vents, and then clean them out. If you need our services, contact us any day for Dryer Vent Cleaning.
FAQs
Are dryer vent cleaners worth it?
Yes, hiring professional dryer vent cleaners is worth it. Dryer vent cleaning is essential for maintaining the efficiency and safety of your dryer. Over time, lint, debris, and other obstructions can accumulate in the dryer vent, leading to reduced airflow, increased drying times, and even potential fire hazards. Professional dryer vent cleaners have the expertise and specialized equipment to thoroughly clean the vent and ensure optimal performance and safety.
Can I clean my dryer vent myself?
While it is possible to clean your dryer vent yourself, it is generally recommended to hire professionals for this task. Cleaning a dryer vent requires specialized tools and knowledge to effectively remove lint and debris without causing any damage to the vent or dryer. Professionals have the necessary equipment, such as high-powered vacuums and rotary brush systems, to thoroughly clean the vent system and ensure its proper functioning.
How often do I really need to clean the dryer vent?
The frequency of cleaning your dryer vent depends on several factors, including the usage and type of dryer you have. As a general guideline, it is recommended to clean your dryer vent at least once a year. However, if you notice any signs of reduced airflow, longer drying times, or if you have a large household with heavy dryer usage, more frequent cleaning may be necessary. Regular maintenance and cleaning of your dryer vent are crucial for both efficiency and safety.
Melbourne Suburbs Where We Serve
City Duct Cleaning is a worthy company you can hire for all kinds of duct and vent cleaning services in Melbourne and its suburbs. We have our reach to all of these locations.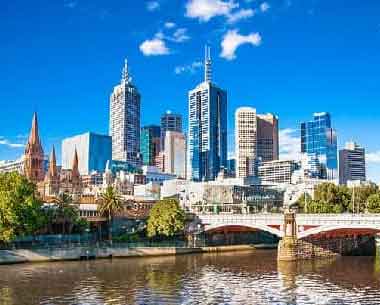 What Our Clients Are Saying

Best Team For Duct Inspection And Cleaning
Thanks to your team for a thorough duct inspection and cleaning. I was irritated with the smoke in the kitchen that was not passing efficiently through the ducts. Now, it seems the problem is solved.

Jessie Penman
A Week Ago

Punctual Team
Happy to find a punctual team for duct cleaning service. Your team arrived at the given time and did the work without any hassle. I will call your team again if there will be any problem.

Graham Douglas
A Week Ago

Great Service
After checking the ducts and cleaning, everything was great. Your team was at my place with all equipment and preparations required for professional-grade duct cleaning. Great to have you for the service.

Lily Moegelberg
A Week Ago