Professional Gas Ducted Heating Repair Service in Melbourne
Gas Ducted heating repair is an excellent way to keep your ducted heating system in good working order. At City Duct Cleaning Melbourne, we know that when it comes to Ducted Heating Replacement quality is all we're about. That's why we offer an unparalleled service: our team will come out and assess your ducted heating system, determine what needs repair, and then proceed with the repairs so they are ready for use right away!
We understand how important a clean and damage-free heating and cooling system is for your home or business. So when you need some help fixing your ducted heating or cooling system, don't hesitate to call us at our toll-free numbers. We'll get right on it and will offer the best possible quotes and Ducted Heating Repair and Duct cleaning services.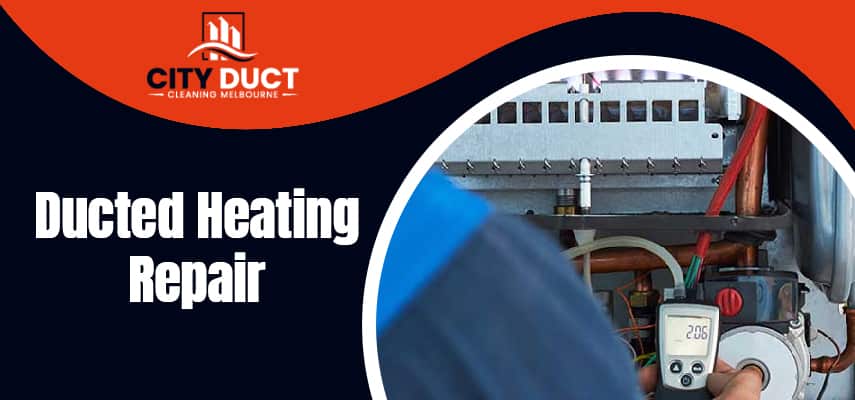 How Do We Repair Ducted Heaters?
Step 1 Prepare Tools
Once we arrive at your home, we do an inspection and gather all required tools and materials like an Air compressor (for inflating the blower), vacuum (for collecting debris), Duct tape (to seal off the necessary area), etc. A thorough inspection of your heating system and we determine if any repairs need to be made.
Step 2 Cleaning
Our Duct Cleaning Technician will remove all debris from the ducts and clean them thoroughly with a high-pressure air cleaner that cleans all types of dust, dirt, and grime out of your heating system's air vents, return registers, and diffusers.
Step 3 Repairing
Our Local Duct Cleaners also make sure that we don't turn on any fans or other components that are connected to the system until we have finished repairing it. Then, we put on a pair of rubber gloves and grab air compressors or duct parts to fix the problem. We use our specific techniques and repair it with new parts if needed or sometimes we repair it with only tools and equipment.
Step 4 Post Inspection
After cleaning and repairing your duct or vents thoroughly, our Duct cleaning Technicians will then make sure that everything is working correctly again before leaving you with a clean bill of health for your heating system.
Our process can take anywhere from 30 minutes to 2 hours or more depending on how dirty your system is inside and how much repair needs to be done on each part of it. To schedule a booking of Ducted Heating service, call us now!
We Provide Services in Below Suburbs
The Benefits Of Gas Ducted Heating Repairs & Replacement Timely
Improved comfort in your home or office.
Increased energy efficiency.
Reduced energy consumption.
Gas Ducted heating repair is a great way to make your home more comfortable, efficient, and cost-saving.
Keep your ducted heating system in good working order with ducted heating repair service.
Lower Gas ducted heated repair bills can even save you money.
Save you from early replacement.
Why You Choose Our Professionals At City Duct Cleaning
We know ducted repair can be confusing, but choosing the right ducting and cooling specialist will end up saving you money and ensuring your satisfaction. The right option for Gas Ducted Heating Repair in Melbourne is our company. The reasons are:
We have 25 years of experience in ducted cleaning and repairing services to give many benefits.
When it comes to Gas Ducted Heating Repair, you may want to get Same-day Service and we do it without making any excuses.
We don't want to take any chances with your heating or cooling system and repair the Ducted Heating system with our latest machines and tools.
You definitely want to make sure that your Ducted Heating System is working properly. So, we give an inspection service to check and find faults.
Our company professionals are certified and authorized to give services in both commercial and residential places. 
FAQs
How do you fix a ducted heater?
Fixing a ducted heater requires expertise and knowledge of HVAC systems. It is recommended to hire a professional technician to diagnose and repair any issues with your ducted heater. The technician will inspect the system, identify the problem, and perform the necessary repairs or replacements. Common repairs may include fixing faulty thermostats, replacing malfunctioning valves or sensors, repairing ductwork, or resolving ignition or pilot light issues.
What is the lifespan of ducted heating?
The lifespan of a ducted heating system can vary depending on various factors such as the quality of the system, regular maintenance, usage, and environmental conditions. On average, a well-maintained ducted heating system can last between 15 to 20 years. However, it is important to note that older systems may be less efficient and may require more frequent repairs. Regular maintenance and timely repairs can help extend the lifespan of your ducted heating system.
Why is my gas ducted heating not working?
There can be several reasons why your gas ducted heating system is not working. Common issues include problems with the thermostat, gas supply, ignition or pilot light, valves, sensors, or a malfunctioning fan or motor. It is best to have a professional technician inspect and diagnose the problem. They will be able to identify the specific issue and perform the necessary repairs to get your gas ducted heating system back up and running efficiently.
What is gas ducted heating?
Gas ducted heating is a type of central heating system that uses natural gas or LPG (liquefied petroleum gas) as a fuel source. It involves a heater unit, typically located outside or in the roof space, which generates warm air. This warm air is then distributed throughout the house via a series of ducts and vents. Gas ducted heating provides efficient and consistent heating throughout the entire home and can be controlled by a thermostat to maintain desired temperatures in different areas.