Heating Duct Replacement Cost Melbourne: 5 Pricing Guide Tips You Must Know
Depending on the square footage of the home or business, the heating duct replacement cost Melbourne might vary anywhere from $1,400 to $5,600. Air duct repair may cost anywhere from $25 to $55 per linear foot, which translates to between $270 and $500 per duct for a crawl space, attic, or basement. Installing new duct work in a home that does not already have it might cost anywhere from $2,400 to $6,600.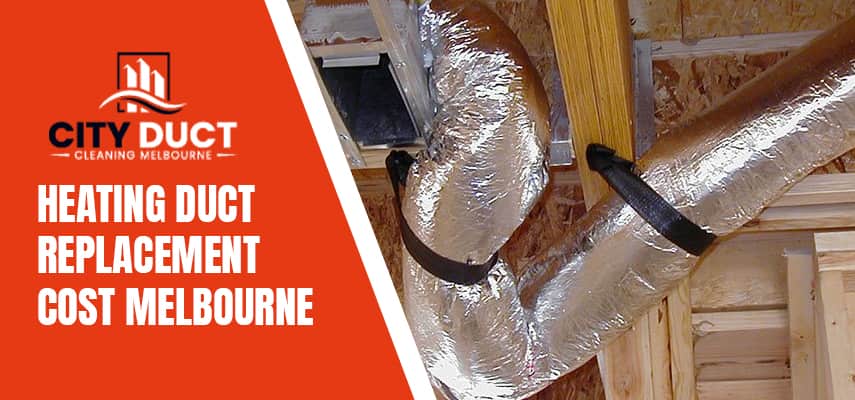 Costs of Duct work and Ventilation Systems Installation are Affected by a Variety of Factors
Before you start looking at several companies for your ducting and ventilation task, it would be in your best interest to have an understanding of how these companies arrive at the prices that they offer. You can put up an adequate budget if you proceed in this manner. There are several factors that may influence the total cost of a project, including the following:
Size
Since houses come in a variety of sizes, it stands to reason that bigger homes will need ducting that is both longer and more numerous to achieve enough air circulation. This also indicates that more supplies and people will be required to do the task, resulting in increased costs for you.
Location
If the region where the installation will take place will be difficult to access, you should have your money in order. If your handyman has to bring in extra equipment to reach the place where the ducting and ventilation will be built, you can expect them to charge you a greater rate for their services.
Additional responsibilities
Before beginning the new installation, this may include removing any ducts that are damaged, outdated, or leaking. Because your installers will have to put in more effort, it will incur more costs for you.
Replacement cost
On average, the heating duct replacement cost Melbourne of putting new ducts in an existing house that does not have any ducts may vary from $2,400 to $6,600. A contemporary duct system often consists of components such as plenums, fittings, air duct lines, distribution boxes insulated register boots and dampers. The cost of installing commercial ductwork may vary anywhere from $15 to $35 per linear foot on average. However, this number can be much more or lower based on the dimensions, location, and access to ducting. For commercial projects, specialised duct designs on a big scale are essential requirements.
Duct Maintenance
The majority of ductwork in a house may be maintained by the homeowner with very little effort. It is important to keep your vents clean and clear of any debris at all times, and you should also frequently replace the filter on your HVAC system. Your ducts will remain clean and in excellent functioning condition if you continue to do both of these things regularly. It is recommended that you get your ducts cleaned after any work that takes place in your house since the dust and debris that is generated during building have the potential to clog the ducts.
Aside from that, they normally only need to be cleaned once every five to ten years.
The Environmental Protection Agency (EPA) advises cleaning the system if you discover mould growth, vermin, or anything else that is clogging the ducts. In addition, when you are cleaning them, have them examined, and if required, have them sealed so that they stay in excellent shape.
The Benefits of Replacing a Ducting and Ventilation System
Due to the many advantages, it offers, a properly functioning ducting and ventilation system is an essential component of every residential building.
It makes the air better in quality.
A ducting and ventilation system's principal function is to guarantee that you breathe clean air while also ensuring that air is distributed uniformly throughout the home.
It makes one feel more at ease.
The temperature of the air may be regulated and maintained at the level you wish with the help of ventilation and ductwork. Because it won't be too hot or chilly, your house will feel much more comfortable.
It is not harmful to the natural environment.
By lowering the temperature in your living area, ductwork and ventilation play a significant role in reducing the amount of carbon dioxide released into the atmosphere.
Mould, dust, and other types of microorganisms are thwarted as a result.
These allergens tend to accumulate in the environment when there is a lot of humidity in the air. Getting rid of humidity and preventing the spread of potentially dangerous substances is the responsibility of an effective ventilation system.
It helps to save energy.
A practice that is not only detrimental to the health of the planet but also your bank account is to leave the air conditioner on throughout the day. Distributing the air around your house via ducting and ventilation systems can reduce the time you spend using your air conditioner.
To Conclude
The heating duct replacement cost Melbourne ranges for adding a vent to pre-existing ducting is between $250 and $500, depending on the placement of the ducts and the design of the property. Adding more air vents to heating, ventilation, and air conditioning system decreases efficiency and raises energy costs. Professionals in the HVAC industry advocate leaving the vents in place when upgrading to a more robust HVAC system. Get in touch with experts immediately to get free, no-obligation quotations on the cost of installing or replacing your air ducts. Hire City Duct cleaning Melbourne services at affordable rate.